If you landed on our website because you are hosting a party, luncheon, or a work meeting with a variety of exquisite food options and have been searching for Gluten-free on catering near me, you are now at the right place.
You can view our Gluten-Free Catering Menu by clicking here.
At Tasty Table Catering, it is our duty to take care of our clients and ensure that the food ordered is delicious and safe for all. In food service catering, it is important to make sure we recognize and appreciate the dietary needs of our customers and their employees with food allergies and sensitivities to provide not just healthy, but also safe and all-inclusive catering options. It is important for any professional to understand that fostering a safe and inclusive workplace is good business, and in some cases also a law.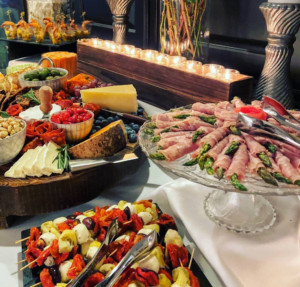 Gluten has gotten a bad rep lately and you might not always think about this, but according Food Allergy Research and Education (FARE) to most companies more than 17 percent of your employees within your workforce have food allergies.
Here at Tasty Table Catering, we offer exquisite gluten-free catering options in the Philadelphia Main-Line serving corporates, private events, weddings, holidays and special events.
Our menu items are customizable to your company needs so everyone enjoy.

These are some of our favorite delicious gluten-free catering options you can enjoy in your workplace during your next office event:
Teriyaki Salmon with Potatoes and Roasted Veggies
Moroccan Salad with Hummus, Cucumbers and Almonds
Harvest Salad with Crispy Chickpeas
Cauliflower Fried Rice with Portabella Steak
Asian Spicy Tofu Stir Fry over Rice with Szechuan Veggies
Blackened Mahi Mahi Wrap 
Butternut Squad Risotto with Leeks
Apricot Salmon with Red Bliss Potatoes and Brussel Sprouts
Bacon Wrapped Scallops with Rice and Asparagus
We also offer vegan and vegetarian catering in the Philadelphia Main Line, please view our Vegan/Vegetarian Menu here.